Umrah is a spiritual journey that holds immense significance for Muslims worldwide. Bangladesh is among the many countries whose citizens embark on this holy pilgrimage every year. However, planning an Umrah trip can be overwhelming, particularly for first-timers. To ease your worries, we've created a detailed guide to Umrah packages for Bangladeshi travelers. Our guide will help you make an informed decision and ensure a stress-free pilgrimage to the holy cities of Makkah and Madinah.
What is Umrah?
Umrah is a sacred Islamic pilgrimage to the holy city of Makkah, which can be performed at any time of the year. Unlike the Hajj, which takes place during the Islamic month of Dhu al-Hijjah and is mandatory for financially and physically able Muslims to perform at least once in their lifetime, Umrah is a Sunnah (recommended) act of worship and not obligatory. Nevertheless, it is still regarded as a highly virtuous and rewarding act that Muslims aspire to undertake at least once in their lifetime.
Why Opt for an Umrah Package?
Embarking on an Umrah journey can be overwhelming, particularly if you're not familiar with the process. Choosing an Umrah package can alleviate the stress of planning and provide you with all the necessary arrangements, such as flights, accommodation, transport, and visas. Moreover, packages typically include guidance and support throughout the journey, ensuring a hassle-free and enjoyable experience. Additionally, packages can be tailored to suit your preferences, budget, and schedule, and may also include supplementary activities like Ziyarat (visiting holy sites) and educational programs.
Varieties of Umrah Packages Available
If you're considering an Umrah package, you'll find a range of options to suit your budget and preferences. Below are some of the most popular types of packages:
Economy Packages: These packages offer essential services such as accommodation and transport but with minimal additional features. They are ideal for those on a tight budget or those who prioritize worship over sightseeing.
Standard Packages: These packages provide greater comfort and convenience, offering better quality accommodation, meals, and transport. They also include additional services such as Ziyarah and guided tours, making them an excellent option for those seeking a more enriching Umrah experience.
Deluxe Packages: These are premium packages that provide top-of-the-line accommodation, transport, and services. They often include luxurious five-star hotels, private transport, and personalized attention, making them an ideal choice for those who want a lavish Umrah experience.
Group Packages: These packages cater to those who prefer traveling in groups with a dedicated guide and itinerary. They offer a more social and supportive experience, and often include additional activities such as group prayers and lectures. Group packages are an excellent option for those who want to bond with fellow pilgrims and gain a deeper understanding of the significance of Umrah.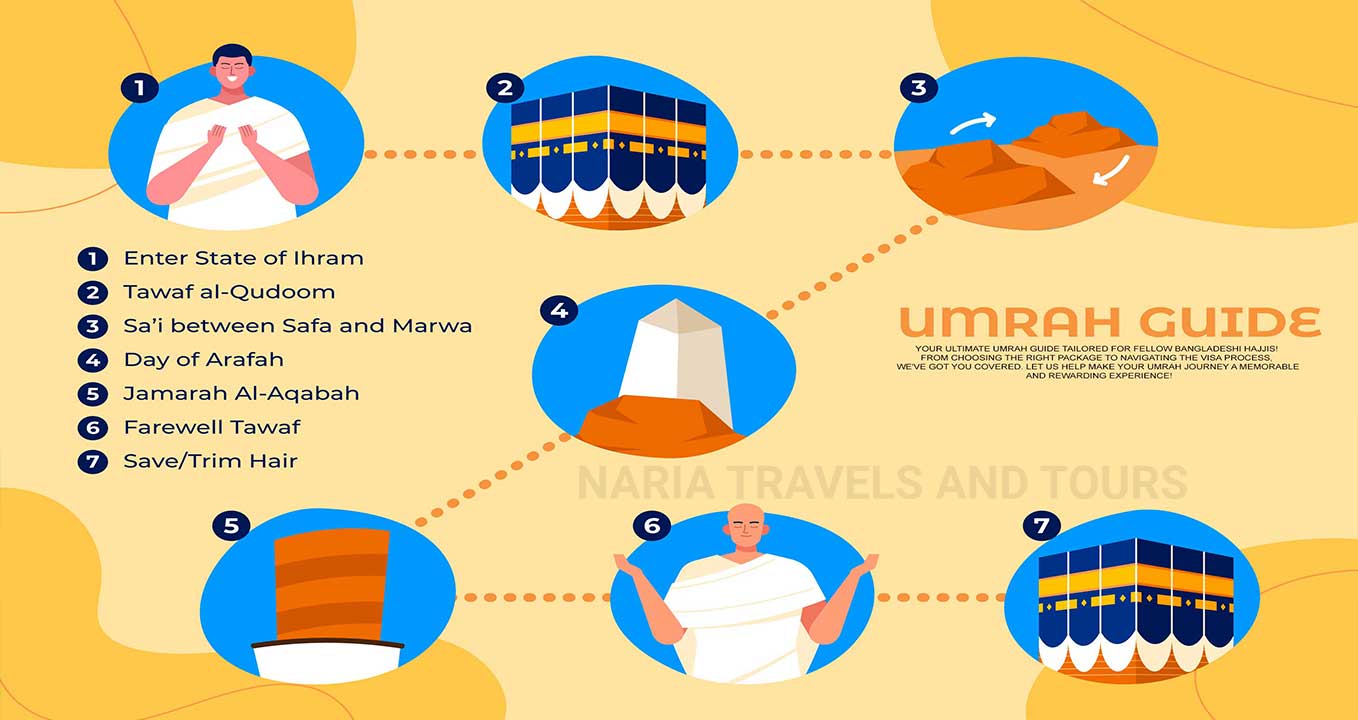 Tips for Choosing the Right Umrah Package
Selecting the appropriate Umrah package is crucial to ensure a seamless and fulfilling pilgrimage experience. To help you make the right decision, consider the following factors:
Budget: Determine your budget for the trip and look for a package that is within your financial means.
Duration: Decide on the length of your stay in Saudi Arabia and choose a package that offers the appropriate duration.
Accommodation: Choose the type of accommodation that suits your preferences and budget, whether it's a budget hotel or a luxurious five-star hotel.
Services: Look for packages that provide the services you require, such as transportation, meals, and Ziyarat (visiting holy sites).
Reputation:Research the travel agency and read reviews from previous customers to ensure they have a good reputation and are dependable.
Support: Select a package that provides support throughout the journey, whether it's through a dedicated guide or 24/7 customer service, to ensure a stress-free experience.
Umrah is a profoundly spiritual journey that necessitates meticulous planning and preparation. By selecting the appropriate Umrah package, you can optimize your pilgrimage and concentrate on your worship and devotion. Regardless of whether you are a first-time pilgrim or a seasoned traveler, there is an Umrah package that is ideal for you. For more details you may have a look at our Umrah Packages.